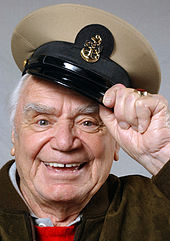 Thanks to Marine Paul Sutton for bringing this video to our attention.
Ernest Borgnine died on Sunday, July 8, 2012 at age 95. He joined the Navy after graduating from high school during the Great Depression and was discharged in 1941, but re-enlisted after the Japanese attack on Pearl Harbor launched the United States into World War II. He served until 1945, accumulating a total of ten years in the Navy and reached the rank of gunner's mate 1st class in the process.
He served aboard the destroyer USS Lamberton. His military decorations included the Navy Good Conduct Medal, American Defense Service Medal with Fleet Clasp, American Campaign Medal, Asiatic-Pacific Campaign Medal, and the World War II Victory Medal. Also, Borgnine received the honorary rating of chief petty officer in October 2004, from Master Chief Petty Officer of the Navy Terry D. Scott for Borgnine's support of the Navy and naval families worldwide.
Mr. Borgnine's acting career spanned decades and Americans of all generations remember him for his various characters and series, including sadistic Sergeant "Fatso" Judson (From Here to Eternity), sensitive butcher, Marty for which he won an academy award, LCDR Quinton McHale in McHale's Navy and even the voice of elderly superhero Mermaid Man in Sponge Bob Square Pants, where he was paired up with his McHale's Navy co-star Tim Conway as the voice of Mermaid Man's sidekick Barnacle Boy.
Despite his stardom, he maintained a down to earth attitude and was always happy to spend time with his fans and greet them with a sincere smile.
Please enjoy the following poem, I Am The American Sailor, which he performed on Oct. 14, 2006 with the United States Navy Band at the U.S. Navy's 231st birthday concert, held at DAR Constitution Hall in Washington, D.C. The music was written by Master Chief Musician Jefrey Taylor and the poem was written by Master Chief Musician Jere Wallace.
---
6 minute video
---
---