Sid Busch spent 26 years on U.S. Navy submarines as a sonar technician. Patrolling off of Russia during the height of the Cold War, his command's mission was to covertly monitor the enemy. The subs he was on carried more nuclear fire power on them than any ship or aircraft in U.S. history.
Busch said, "If we ever had to engage, then we didn't do our job. Fortunately, we never had to go on the attack."
In terms of exercise there are not many options when you are on board a Navy sub for up to nine months at a time. His typical shift was six hours on watch and 12 hours off duty. A good portion of his off time was consumed by putting miles on the treadmill because it was practically the only "entertainment" on the submarine.
How he got into long distance running on land was partially by accident, and partially because he was tested. In 1983 he ruptured a disc in his back, and he was facing a medical discharge from submarine duty.

He made a deal with his commanding officer that if he could finish a marathon, he could continue on with his career as a sonar technician. Busch would go on to complete his first-ever marathon at the Hunter Army Airfield in Savannah, GA in January 1984 and ultimately continued on with his Naval career before retiring in 1991.
He didn't retire from running however. Busch will be competing in his 180th career marathon, and fourth Baltimore marathon, when he visits Charm City on October 15th. "The things I love about Baltimore the most are running through the scenic neighborhoods and the Inner Harbor and, believe it or not, the police officers on the course. Typically officers just serve as traffic control at marathons, but in Baltimore they are more like cheerleaders. I hope they know how much this helps propel runners to the finish line," he said.
The Goose Creek, SC native runs about eight to ten marathons a year, with an eye on completing at least 200. Starting at 3AM he logs about 60-70 miles per week only taking Sundays off. As he has gotten older, Busch made the decision to retire from one thing….operating in stealth mode.
About five years ago he decided to go from 20,000 leagues under the sea to shouting from a mountain top about his new life mission. He did some online research and met a man named Roland Bower who started a movement called "Running in Honor of Fallen Heroes" to help spread the word about U.S. soldiers who lost their lives during battle.
Now Busch runs every marathon in honor of a fallen hero. After the race, he hand delivers his finisher's medal to the soldier's family. In a soft and compassionate tone he said, "It's a very emotional experience, but I know how much it means to these soldiers' families."
(Top) Running veteran Sid Busch plans to complete career marathon #180 in Baltimore in honor of Cpl. Kurt Shea, USMC, who lost his life on May 10th, 2010 while defending his country's freedom in Helmand Province Afghanistan.
---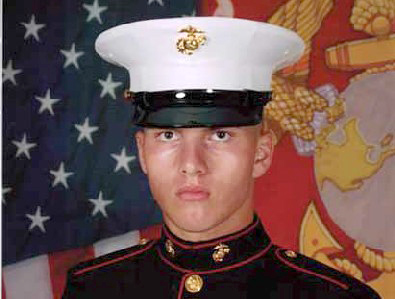 Cpl. Kurt Shea, USMC
---
The selection process is by no means a formal one. He researches local papers, and once a certain amount of time has passed, he reaches out to a soldier's family and shares his wish. Naturally it's too difficult for many families to endure. For those who do agree it becomes a way of keeping their son's or daughter's memories alive.
Even though Busch doesn't personally know the soldiers he is running for he is very much emotionally attached during every step of his journey. As a veteran himself, he knows the sacrifice it takes to defend one's nation and it pains him to see any U.S. soldier lose their life.
He's dedicating this year's Baltimore Marathon to Cpl. Kurt Shea, a U.S. Marine who lost his life at the age of 21 while defending his country's freedom in Afghanistan. The Shea's reside in Frederick, Maryland. Busch hopes to form a group of runners for the 2012 Under Armour Baltimore Running Festival who will join his public awareness movement. But his ultimate wish is for the list of fallen soldiers to choose from permanently stops growing.
Busch concluded, "I just wish I could run with them instead of for them. In the meantime I will run until my body falls apart."